The Peabody Historical Society has in its collection a small raffia-bound sketchbook belonging to Florence and dating from her early days as a teacher, or possibly as a student in the Elementary Course at the Salem Normal School, a teaching college which is now part of Salem State College. She called the book "Elementary Projects." In it she outlined various art projects as guidelines for teaching them to her students, including cutting and pasting construction paper illustrations, primary and secondary color diagrams, and interior decoration. Florence also devoted a few pages to teaching her students how to draw chickens and rabbits for Easter.


In her sketch book Florence wrote down very detailed instructions on how to teach her students to draw Easter chicks, entitled "Lesson Plan for Teaching the Drawing of a Chicken." As per her instructions, Florence would proceed as follows:


"It is almost Easter and we are going to make Easter cards. What would you like to have on your card. Little chickens? Well, first we will have to know how to draw a chicken. As I sketch at the board you sketch on your paper."

To draw a chicken, her students drew a smaller circle (the head) on top of a larger circle (the body), with a beak and legs, to be fleshed out and colored in. The end result should look like this: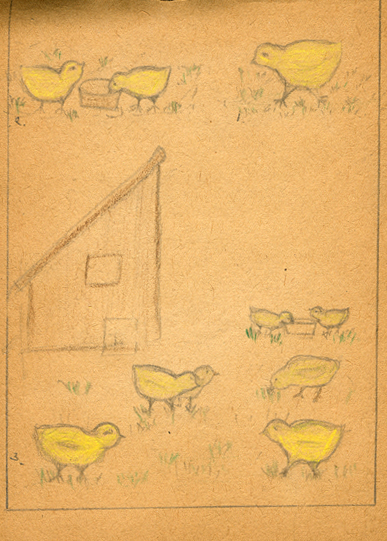 Florence Holden was a teacher in Peabody from the 1920s to the 1950s. She worked for the Thomas Carroll School in the Twenties and the Samuel Brown School by the early Thirties. By 1940 she had been appointed Assistant Principal of the Samuel Brown School.