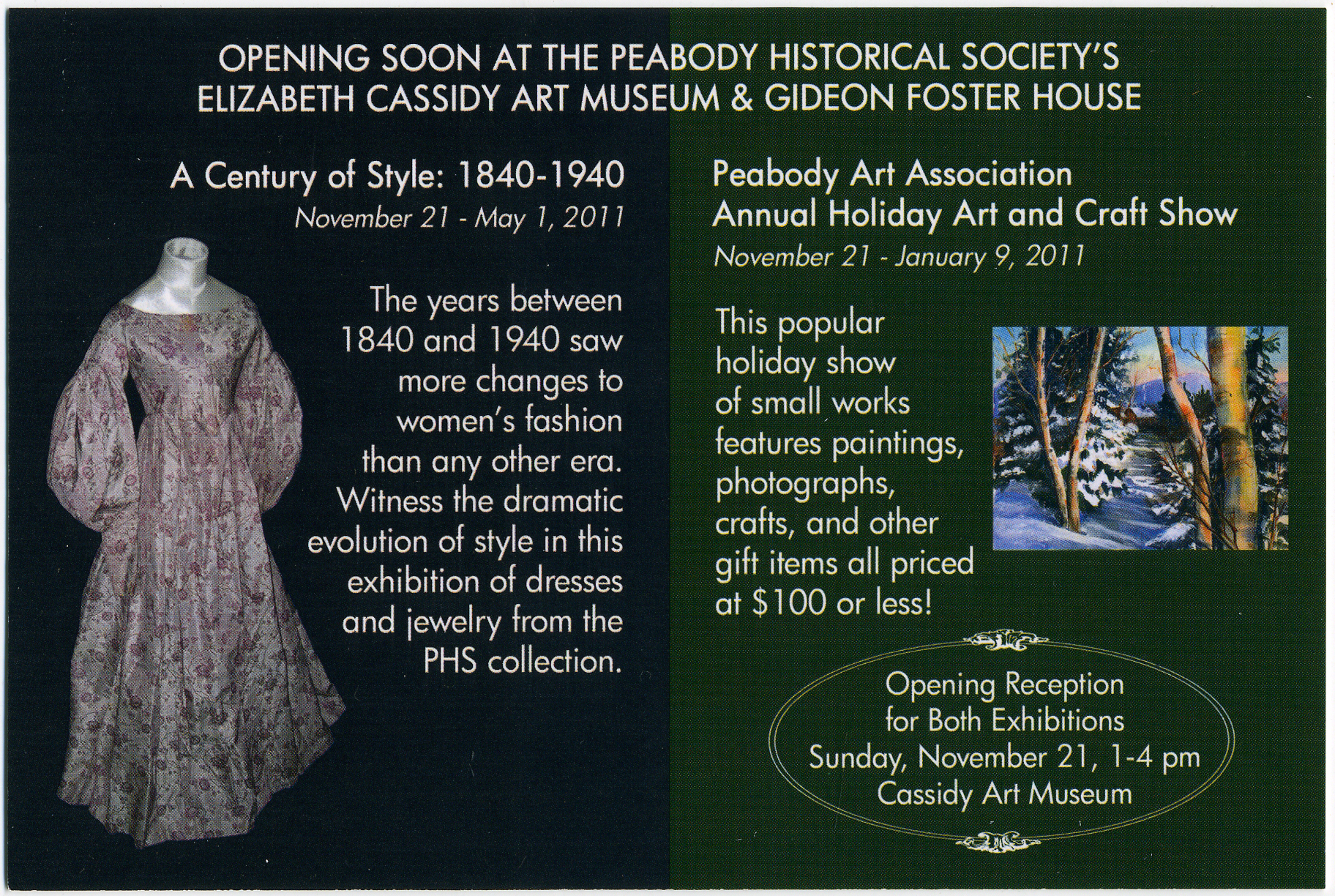 Save the date: November 21, 2010, for the opening reception of the Peabody Historical Society's new exhibition "A Century of Style: 1840-1940." The years between 1840 and 1940 saw more changes to women's fashions than any other era. This exhibit of costume and jewelry traces the evolution of women's dress from the early Victorian era to the advent of World War II, starting with the oldest dress in our collection (pictured). It dates from ca. 1837-1840 and was worn by Abbie Hooper Allen Trask, the daughter of Peabody military officer and businessman Lewis Allen. The exhibit is on view in both the Gideon Foster House and the Elizabeth Cassidy Art Museum. Hours are Tuesday through Friday, 10 am to 3 pm, and the 1st and 3rd Sunday of the month, 12 pm to 3 pm, through May 1, 2011.


Also opening on November 21 is the Peabody Art Association's Annual Holiday Art and Craft Show. This popular holiday show of small works features paintings, photographs, crafts, and other gift items. All items are priced at $100 or less! The show is on view in the Elizabeth Cassidy Art Museum, Wednesdays, Fridays and Sundays from 12 pm to 3 pm until January 9, 2011.


The opening reception for both shows is Sunday, November 21 from 1 pm to 4 pm at the Elizabeth Cassidy Art Museum, 33 Washington Street, Peabody. The exhibits are free and open to the public. Call (978) 531-0805 for more information.