This weekend's massive snowstorm reminded us of other snowstorms to hit Peabody in the past. Of course, there was the Blizzard of '78 – a storm so devastating that it has become the benchmark for all subsequent snowstorms. But Peabody has witnessed many significant snowstorms over the years. We're fortunate to have many photographs in our archives, donated by our members and friends, that preserve for posterity the city of Peabody as it looked under several feet of snow.
Circa 1901-1902
An electric trolley car stuck in the snow, circa 1901-1902. From the Century Chest, a collection of photographs donated by the people of Peabody and put into a chest that was stored at the Peabody Institute until it was opened one hundred years later in 2002.
The Peabody Happenings section of The Salem Evening News for February 6, 1901 reported that "This morning the snow packed in on the Lynn street track, in front of Rockdale park, so that the cars could not get through….The two vestibule cars were linked together and run to Peabody Square that way….All the country lines were blocked with the drifting snow quite badly and the cars had hard work getting through."
But some Peabody residents still managed to have a little fun in the snow, such as Fred, Carl, and Berry Goldthwaite outside their home on Central Street (below).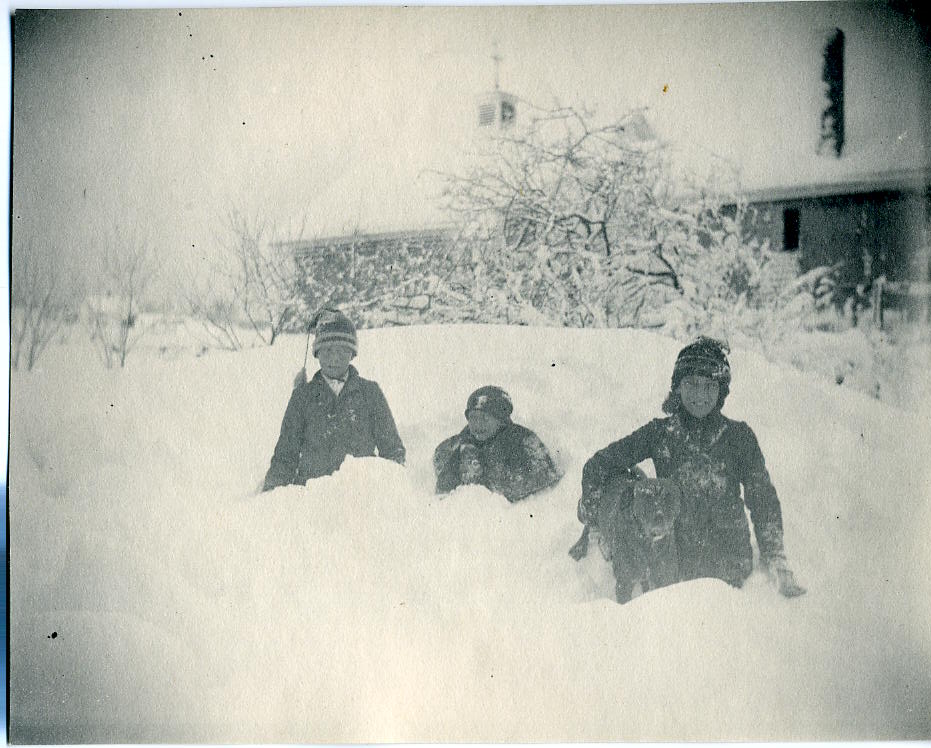 1969
The record-breaking Blizzard of 1969 was the worst snowstorm to hit Peabody until the Blizzard of '78. Two severe snowstorms in February 1969 dumped 41.3 inches of snow on the Boston area. The first storm hit on Sunday, February 9th. People were stranded in their cars on highways, and about four hundred of the city's weekend visitors were forced to spend the night in City Hall, sleeping on army cots in the basement. The second storm hit on Monday, February 24th that left 32 inches of snow, with wind drifts creating snow banks as high as 51 inches. At the time, Peabody didn't have enough equipment to remove such a large amount of snow, so snow-removal equipment was hired from as far away as Long Island, New York, to help dig out Peabody.