Did you know the Topsfield Fair was held in Peabody from 1895 to 1909?

Fair in 1902, Peabody, Emerson Park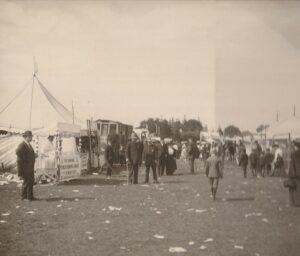 Fair in 1903, Peabody, Emerson Park
The Essex Agricultural Society Fair, now known as the Topsfield Fair, was looking for a permanent home in 1895. The Fair bought a 9 acre lot, near today's Emerson Park, extending from King Street to Franklin Streets.
On the grounds, the Fair built a race track with grandstands, along with two large buildings to house the cattle and other livestock. The Peabody Town Hall on Lowell Street hosted the flower and fruit exhibitions.
Visitors to the Peabody fair often came by train. If you had a ticket to the Fair, you could get a reduced fare on the Boston & Maine Railroad.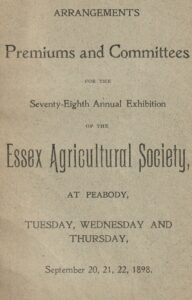 Sadly, this year's Topsfield Fair is cancelled. However, it is not the first time in its long history.
In 1918, the influenza epidemic kept the Fair from opening. During World War II, the Fair was suspended from 1943 to 1945.
We look forward to celebrating our agricultural history, past and present, eating fried foods and marveling at gigantic pumpkins with you all in 2021.