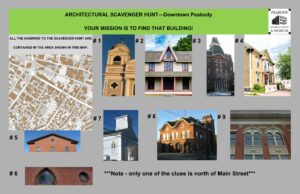 We hope everyone has enjoyed our historic buildings of downtown Peabody Facebook series. If you missed any, here are the 9 buildings we showcased!
#1 – St. Vasilios Greek Orthodox Church (1917), 7 Paleologos Street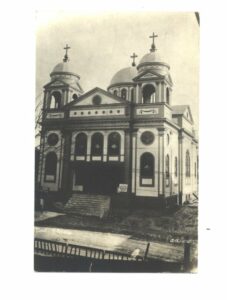 On January 13, 1906, a group of Greek immigrants came together to form a church, St. Vasilios Hellenic East Orthodox Church. The church was named after the Father of Greek letters, St. Vasilios.
By 1912, the congregation had outgrown their original church and bought land on the corner of Walnut and Paleologos Streets.
In 1917, the ornate domed building, we know today, was erected. It has remained the heart of our Greek community ever since.
Image is circa 1920.
#2 The Sutton-Peirson House (1847), 31 Washington Street
This Gothic Revival cottage was built in 1847 by General William Sutton as a wedding gift to his daughter, Elizabeth, and her husband, Abel Peirson Jr.
In March of 2009, the Sutton-Peirson House was donated to the Peabody Historical Society by the developer of the Aborn Street lot on which it was located. The house was moved to a vacant lot adjacent to the Osborne-Salata House on Washington Street.
The black and white image is the house on its original plot of land – 83 Aborn Street. The second color image is what it looks like today!
#3 – Peabody City Hall (1883) 24 Lowell Street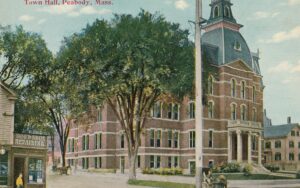 Built in 1883, the Town Hall (later City Hall) hosted many important and interesting events. Here's a few you may not expect.
• Did you know the Topsfield Fair, or the Essex County Agricultural Society Fair, was held in Peabody from 1895 to 1909? The Town Hall was used for the exhibition of flowers and fruit during the fairs.
• At the end of World War I, Peabody celebrated with three days of events. At City Hall, there were boxing matches with 1,900 spectators.
#4 The Osborne-Salata House (1852) 33 Washington Street
This circa 1852 Italianate house was built for Thorndike and Sarah Daniels and later occupied by Dennison Osborne and his family. In the early 20th century, it was converted to a boarding house for local artisans, businessmen and factory employees.
From 1945-1997, the house was owned by Dr. Benjamin Salata, one of the first Jewish dentists practicing in Peabody, and his wife, Celia Patterson Salata. Celia was an accomplished musician and teacher. In 1997, Celia Salata donated the house to the Peabody Historical Society.
#5 Peabody Institute Library (1854), Main Branch, 82 Main Street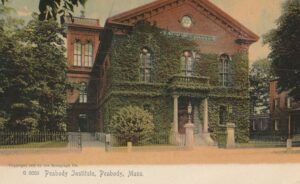 George Peabody made a generous donation of $20,000 in 1852 to his hometown – for the creation of the town's first truly public library. Prior to the Peabody Institute Library, there was the Danvers Mechanic Institute, a membership-based library. George Peabody made clear that he wanted a learning space available to all regardless of their ability to pay.
The main section of the library was completed in 1854. The architect was Richard Bond, who also designed Salem City Hall and Lewis Wharf in Boston. This beautiful building in the Italianate style has a granite foundation, red brick façade, round-top windows and sandstone trim.
As you can see from this 1905 postcard, the library once had a tall tower to the left, which provided a panoramic view of Peabody. This was removed in 1953 during renovations.
If you are interested in learning more about the Peabody Institute Library's history, the Library has put together a great timeline – see link below.
https://www.sutori.com/…/timeline-of-the-peabody-institute-…
#6 Former Congregation Anshe Sfard, 5 Little's Lane, circa 1870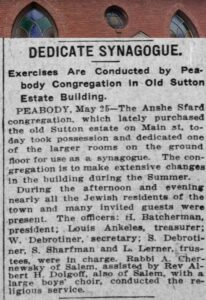 This brick building was originally part of the Eben Sutton Estate on Main Street. It was a carriage house and horse stable.
Congregation Anshe Sfard, formed by recent Russian immigrants, purchased the property in 1913. It served as their shul (synagogue and school) for many years. As membership declined, Congregation Anshe Sfard combined with nearby Congregation Sons of Israel in 1978. Please note that this is now a residential property, which is why we are only sharing an architectural detail.
Interested in knowing more about Peabody's deep Jewish history? Check out this wonderful organization – the Jewish Heritage Center of the North Shore – jhcns.org.
#7 Former First Unitarian Church (1826) 7 Park Street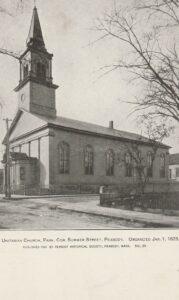 The Church was dedicated on July 26, 1826. It cost $8,734 to build. Most of the building was paid for by selling pew subscriptions. It may seem strange to us, but the wealthier you were, the better seat you had in church.
The rest of the building was paid for by prominent local tanners, Abner Sanger and Benjamin Goodridge, in exchange for allowing them to store hides in the church's cellar for a period of ten years.
MORE FUN FACTS – The first session of the Peabody High School was held in the attached chapel on June 7, 1850.
It is currently a condominium complex.
#8 Peabody Central Fire Station (1873) 41 Lowell Street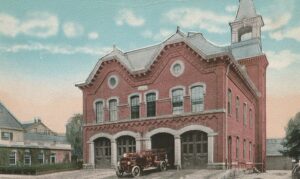 It built in 1873 at a cost of $31,000. Its beautiful brickwork and architectural details were restored in 1989. It is one of the oldest continuously operating fire headquarters in the United States.
Horses played an important role in early firefighting, as they pulled the equipment to the fire. The last of Peabody's fire horses were named Tom and Jerry. They retired in 1926 by resolution of the city council.
#9 Second O'Shea Building (1907) corner of Main and Foster Streets
This beautiful brick building with limestone details was completed in April 1907. Thomas O'Shea, a successful leather company owner, spent $200,000 on two large commercial buildings spanning from 9 to 17 Main Street – called the First and Second O'Shea Buildings. The building stands on the site of the birthplace of General Gideon Foster of American Revolution fame.  The second image is the location prior to 1907.
More Fun Facts – Did you know that there was once a bowling alley in the basement?