October is here.
The air is crisper and the bright foliage is back. Fall in New England is all about apples.
Let's explore Peabody's favorite apple orchard.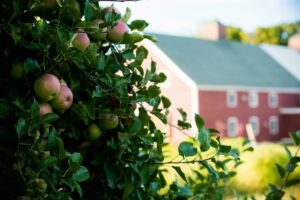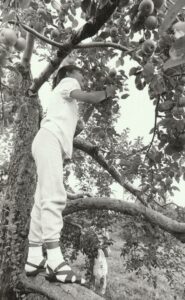 The Felton Family & Brooksby Farm
If you travel down Felton Street today, you will pass the Peabody Historical Society's Felton-Smith Historic Site and end at the City of Peabody's Brooksby Farm. Image if you walked here 384 years ago – how different the land would be then.
That is exactly what Eleanor Felton did. In 1636, at the age of 48, Eleanor Felton, a widow from Great Yarmouth, England, traveled to the "New World" with her teenage daughters and adult son. She acquired what we know today as Brooksby Farm.
The land remained in the Felton Family until 1902, when it was purchased by Joseph Smith, a shoe manufacturer from Lynn. Smith built the iconic red barn to house apples from his orchards.
The 1970s was a pivotal period in the life of Brooksby Farm. The land was almost taken over by a commercial developer. However, locals started a grassroots movement to "Save Brooksby" and did just that. In 1976, Eleanor Smith, the widow of Joseph Smith's grandson, gave the Peabody Historical Society the Nathaniel Felton Junior House, Smith Barn, Orchard House and 8.5 acres of land. Later that year, the City of Peabody purchased 216 acres from the trustees of the Smith estate. In 1983, Janet Smith, the granddaughter of Joseph Smith, bequeathed the Nathaniel Felton Senior House and an additional 8 acres of land to the Society. Today, it is the home to historic sites, a working farm and a public recreational area.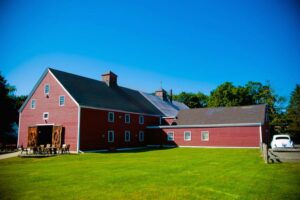 Photos: Smith Barn, prior to restoration by the Peabody Historical Society & Museum, and post restoration. From the Collection of the Peabody Historical Society & Museum.