Join us in preserving Peabody's history

Osborne-Salata House
33 Washington Street, Peabody, MA
Open Monday through Friday, 10am to 3pm
Learn more about Peabody's legendary teams and local heroes. This exhibit explores universal themes of community and self-development, as well as taking a look at the many sports items the Historical Society has in our collections. Free to the public.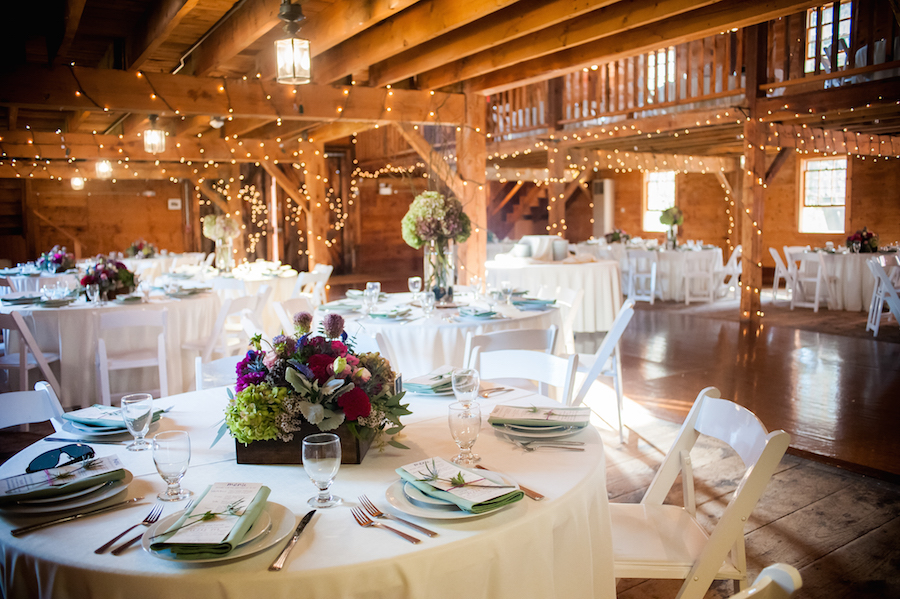 The historic Smith Barn is situated on a picturesque hilltop surrounded by two hundred and fifty acres of orchards and conservation land. Located at the Felton-Smith Historic Site adjacent to Peabody's Brooksby Farm, the Smith Barn is the perfect setting for your special day. Rich in beauty and significance, the site represents over three centuries of the region's history and is home to several historic landmarks.
We are proud to share that the Smith Barn was chosen as  Bons Best of 2018, Reader's Choice for Wedding Venue!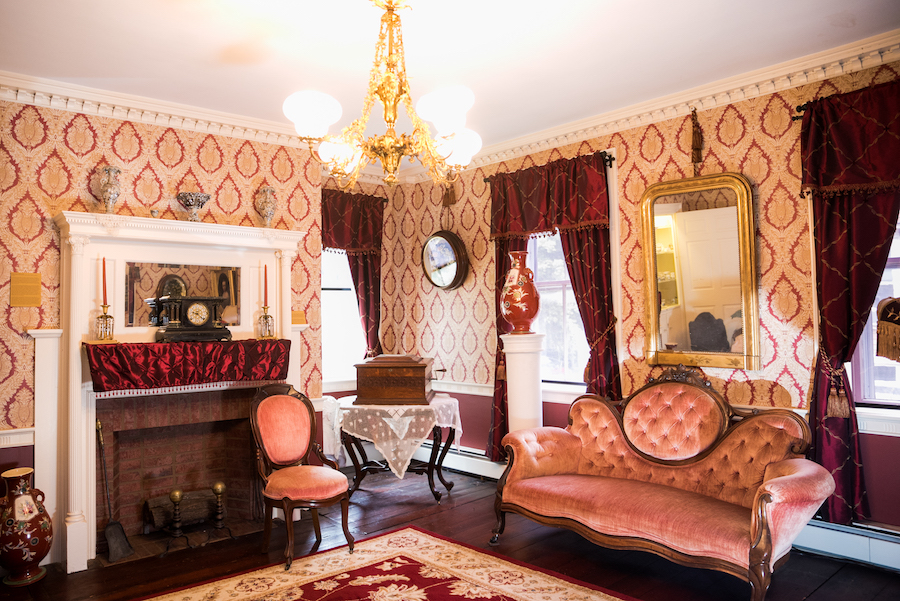 Founded in 1896, the Peabody Historical Society & Museum is a center for the preservation, study and enjoyment of Peabody's cultural heritage. The Society's collections are of local and national significance and document over 300 years of the region's history. The Society maintains eight historic properties, an extensive library and archives, and a large collection of china, textiles, furniture and fine and decorative arts.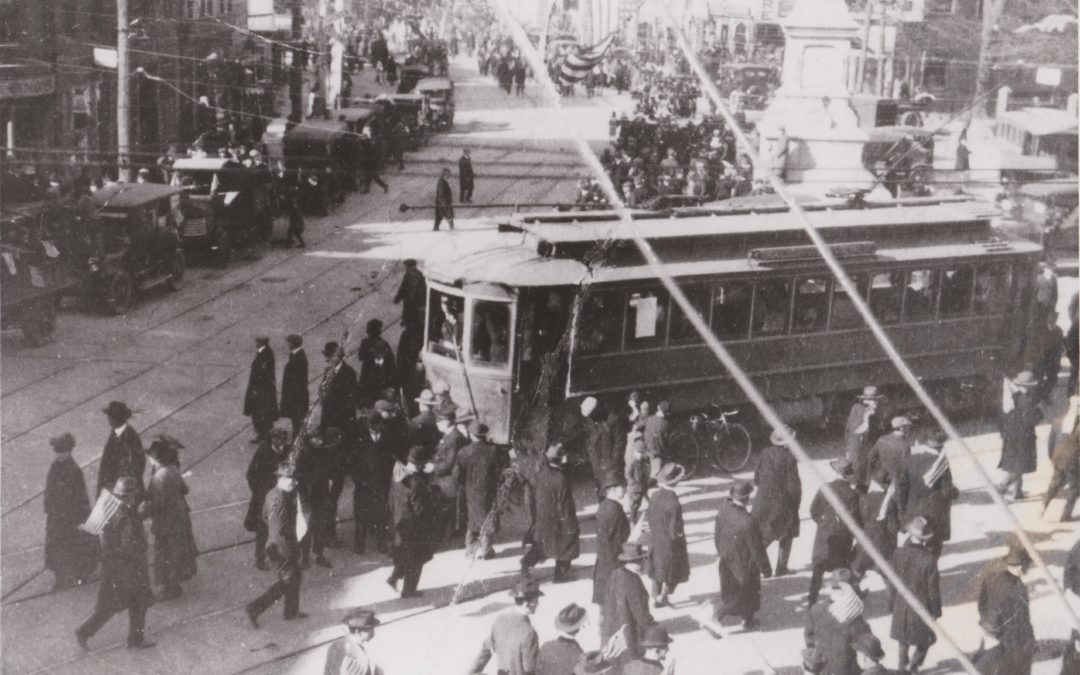 On November 11, 2018, we celebrated the 100th anniversary of Armistice Day and the end of World War I.
26 Peabody men lost their lives serving their country during this conflict:
Fedor Borovik, Michael J. Burke, Eugene F. Connelly, Daniel Augustus Driscoll, John James Durkin, Franklin Jewett Farnsworth, John J. Hourihan, Charles James Howley, Daniel Francis Keefe, Peter Kosranis, Frank F. Martinack, Peter Alfred McDonough, Leroy Edmund Nelson, George Linwood Nickerson, James O'Connell, William Henry O'Connell, Gregory Paleologos, William J. Quinlan, Arthur Francis Tracey, George Eaton Tracey, Ksenofonm Uvanor, Harold G. Van Norden, Thomas Francis Walsh and Delmar Joseph Warner.
Above is a photograph of Peabody Square on this momentous day in 1918.
Imagine that day. A local press reports, "The news of the Armistice was brought to Peabody at 6am, and it was announced 11am Paris time. All the factory whistles in Peabody, the fire alarms and the church bells were used to announce the Armistice. The celebrations continued on the following day until late in the evening. There was no school, and factories and stories remained closed. The parade had over 3,000 in line."
read more
Monday, April 15, 2019
7:00AM-7:30AM: Danvers Alarm List Company will be at the Training Field (Centre Street, Danvers). The Village Training Field on Centre Street was given to the town by Deacon Nathaniel Ingersoll in 1709 as a training place. A marker at the Training Field stands as a memorial to the seven Danvers men who died on April 19, 1775 in Menotomy (Arlington).
8:30AM-9:30AM: Danvers Alarm List Company will be at the Old North Bridge (174 Liberty Street, Concord, MA).
11:30AM-12:00PM: Ceremony at Lexington Monument (Washington at Sewall Street)
Reception to follow at
Peabody Historical Society and Museum
Osborne-Salata House
33 Washington Street
Additional local events for the Danvers Alarm List Company in remembrance of Patriot's Day:
12:00PM-12:30PM: Old South Burial Ground (Main Street, Peabody). The South Burial Grounds contains the graves of four Danvers men who died on April 19: Ebenezer Goldthwaite, George Southwick, Samuel Cook, and Benjamin Daland.
12:45PM-1:00PM: Jacobs Gravesite (Edgehill Road, Peabody). Henry Jacobs was one of the Danvers (now Peabody) men who fell on April 19. He is buried in a family cemetery.
1:30PM-1:50PM: Reuben Keniston Grave – Leach Burial Ground (Elliot Street, Danvers). Reuben Keniston was a Beverly man who marched to Menotomy with Capt. Israel Hutchinson's company. He was killed on April 19.
2:00PM-2:20PM: Hutchinson Home Site Marker (Water Street, Danvers). Capt. Israel Hutchinson commanded a Minute company who fought in Menotomy. Hutchinson lived in a home on Water Street in Danversport, which is no longer standing. The bodies of the Danvers dead were brought back to this house on April 20, 1775. A granite marker marks the location of the house.
2:30PM-2:50PM: Nurse Homestead Cemetery (Pine Street, Danvers). The cemetery at the Nurse House contains the graves of Revolutionary War veterans Francis Nurse (grandson of Rebecca) and Matthew Putnam.
When: May 15, 2019 (Wednesday)
Smith Barn
Felton-Smith Historic Site, 38 Felton St., Peabody, MA 01960
General Gideon Foster House
Headquarters/Office Hours
35 Washington Street, Peabody, MA 01960
Osborne-Salata House
33 Washington Street, Peabody, MA 01960
Sutton-Peirson House
31 Washington Street, Peabody, MA 01960
Nathaniel Felton Senior House
47 Felton Street, Felton-Smith Historic Site, Peabody, MA 01960
Nathaniel Felton Junior House
43 Felton Street, Felton-Smith Historic Site, Peabody, MA 01960
Peabody Historical Fire Museum
38 Rear Felton Street, Felton-Smith Historic Site, Peabody, MA 01960